Autoflame

AUTOFLAME is an international company headquartered in the United Kingdom. AUTOFLAME technologies are developed for the optimazation of combustion processes in boilers. Its application leads to a significant improvement in fuel/air control, thereby increasing the efficiency of the incinerator. This provides an annual 4-6% savings in fuel. AUTOFLAME technologies consists of modules such as MM, EGA and DTI, which together form a leader in the management and operation of combustion processes.

Basic features of modules used for the management of burners:

Module MK.7 Evo Touch Screen

MK.7 provides easy programming and a display with full color touch screen. The display screen can be switched to display mode MK.6 for customers who are accustomed to working with the other version. The MK.6 can be replaced by its advanced version, the MK.7. The display unit allows you to work with several kinds of languages, including Czech

           - 10.4″ touch screen and color display
           - micro modulation of fuel/air control
           - UV self check flame safeguard
           - system pressure tests
           - measurement of gas, oil, and air pressures
           - PID control
           - Lead lag control for both steam and hot water
           - 3 parameter trim, O2, CO2, and CO
           - Option to add the water level control module


 Module MK.7 Water Level Control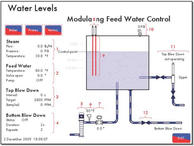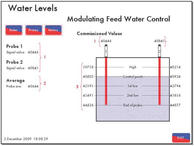 Module MK.7 EVO can be enhanced with Module MK.7 Water Level Control.
AUTOFLAME level regulation is probably the safest and most accurate method of controlling levels in steam boilers. The accuracy of sensing the water level in a boiler is +/- 2mm. Measurement level safety is guaranteed by 2 capacitance probes which measure and evaluate the level of the boiler during operation. Both probes evaluate the 'high level,' 'control point,' '1st low level,' and 'second low level.'
Values obtained by the probes are continuously monitored and compared with eachother and with any data you set. Mechanical and electrical integrity of the probes are automatically controlled by AUTOFLAME hardware and software. The system takes into account temperture, conductivity, polarization, and turbulence.
MINI MK.7 EVO Module

-Microprocessor control of fuel/air ratio
-Burner control functions and full flame supervision with UV or ionisation flame detection
-PID control of temperature and pressure
-Two fuel lines, such as gas or oil
-Three motors
-20x4 line LCD display
-IR port for data transfer to PC and 0-10V input for external modulation      

 EGA Module MK.7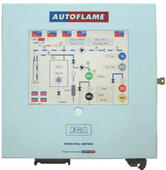 MK.7 EGA in an automatic gas calibrater. It provides easy programming and a display with full color touchscreen. The unit is equipped to measure O2, CO, CO2 and NO, sensors to maesure the temperature of exhaust gases, and six 4-20mA analogue output signals for the tansmission of measure values. It can be retrofitted with an element to measure SO2. The results of the measurement analyzer evaluates the efficiency of combustion. It can also be used for the continuous measurement of flue gas and the results can be downloaded to an external evaluation unit.
DTI Module

The DTI module is used for remote monitoring, control of technological equipment and as a connection to a PC or via modem communication.
Actuators Autoflame 4/25 Nm, 24/230V

   ndustrial actuators Autoflame 40 - 400Nm, 110/230V
| | |
| --- | --- |
|   | Autoflame components for regulating fuel |
| | | |
| --- | --- | --- |
|   | |  Autoflame components for managing water levels |

More information is available at  www.autoflame.com