Autoflame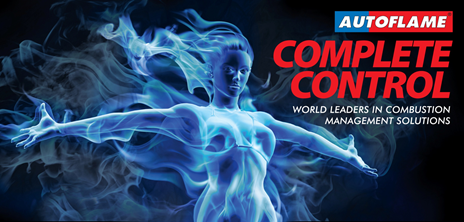 AUTOFLAME is an international company headquartered in the United Kingdom. AUTOFLAME technologies are developed for the optimazation of combustion processes in boilers. Its application leads to a significant improvement in fuel/air control, thereby increasing the efficiency of the incinerator. This provides an annual 5-7% savings in fuel. AUTOFLAME technologies consists of modules such as MM, EGA and DTI, which together form a leader in the management and operation of combustion processes.

Basic features of modules used for the management of burners:

Module MK8 MM

The MK8 MM Controller is a micro-modulating system that offers comprehensive control over industrial and commercial boiler/burners. Manage virtually all boiler processes from a single 12.1" multi-touch screen interface without any added modules. ideal for steam and water boilers (watertube or firetube), kilns and steam generators. Designed for oil, natural gas or both fuels. Linkageless servomotor system and automated flame safeguard create conditions for unmanned boilerhouse. Modbus connectivity allows for remote monitoring and management. Control more with software Unlocks - these accesss codes unlock advanced features without the inconvenience of hardware changes or added modules: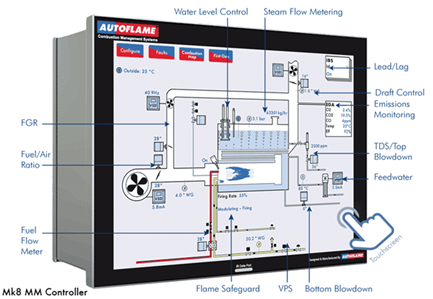 - Autoflame water level management
           - analogue water level (requires Autoflame water level)
           - TDS/Top blowdown
           - Bottom blowdown
           - draught control
           - direct modbus connectivity
           - first out annunciation
           -fully metered, cross-limited control, steam flow and water flow metering
           - 12.1" touch screen


 download: prospectus MK8 MM.pdf

 Module MK.8 Water Level Control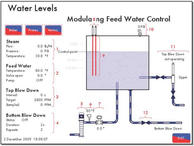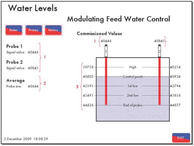 Module MK.8 MM can be enhanced with Module MK8 Water Level Control.
AUTOFLAME level regulation is probably the safest and most accurate method of controlling levels in steam boilers. The accuracy of sensing the water level in a boiler is +/- 2mm. Measurement level safety is guaranteed by 2 capacitance probes which measure and evaluate the level of the boiler during operation. Both probes evaluate the 'high level,' 'control point,' '1st low level,' and 'second low level.'
Values obtained by the probes are continuously monitored and compared with eachother and with any data you set. Mechanical and electrical integrity of the probes are automatically controlled by AUTOFLAME hardware and software. The system takes into account temperture, conductivity, polarization, and turbulence.
Module MINI MK8
The Mini Mk8 is a cutting-edge Micro Modulating system that provides an easily programmable and flexible means of optimising combustion throughout the load  requirement range of the boiler/burner. This control module encompasses all the functions required for reliable burner management. Built into this system is a fully automated flame safeguard and valve proving system, MODBUS connectivity, and a new touchscreen interface.
This system ensures the burner temperature is accurate to within 1° and pressure to within 1 PSI. The positioning accuracy of the direct drive motors controlling the air damper and fuel valve is 0.1 angular degrees throughout the load range. This accuracy ensures repeatable fuel-to-air ratio that leads to improved fuel economy and reduced carbon footprint.
-able to reduce fuel consumption by 5-7% over traditional linkage systems
-capable of reducing CO2 emissions by 10%
-repeatable and accurate positioning system reduces maintenance costs
-controls fuel, VSD, scheduling, sequencing and other automatic settings
-robust steel construction

  
download: prospectus Mini MK8.pdf

 EGA Module MK8
 MK8 EGA in an automatic gas calibrater. It provides easy programming and a display with full color touchscreen. The unit is equipped to measure O2, CO, CO2 and NO, sensors to maesure the temperature of exhaust gases, and six 4-20mA analogue output signals for the tansmission of measure values. It can be retrofitted with an element to measure SO2. The results of the measurement analyzer evaluates the efficiency of combustion. It can also be used for the continuous measurement of flue gas and the results can be downloaded to an external evaluation unit.
download: prospectus E.G.A. MK8.pdf
DTI Module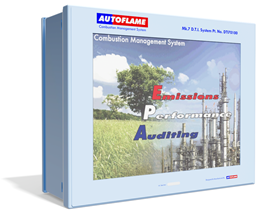 The DTI module is used for remote monitoring, control of technological equipment and as a connection to a PC or via modem communication.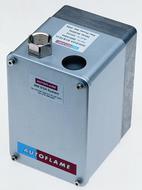 Actuators Autoflame 4/25 Nm, 24/230V

   ndustrial actuators Autoflame 40 - 400Nm, 110/230V
| | |
| --- | --- |
|   | Autoflame components for regulating fuel |
| | | |
| --- | --- | --- |
|   | |  Autoflame components for managing water levels |

More information is available at  www.autoflame.com