Control system of the combustion process aUTOFLAME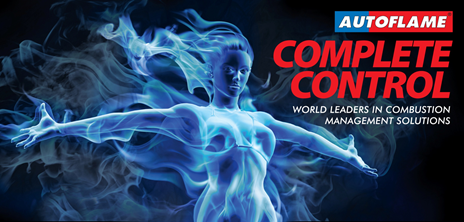 The AUTOFLAME system was developed by The English company Autoflame  Engineering  Ltd. to optimize the control of the combustion process in the entire boiler power range. Its application significantly refines the regulation of fuel/air and thus increases the efficiency of the entire combustion plant. This results in an annual fuel saving of 5 to 7%. The system is composed of modules M.M, E.G.A and D.T.I, which together form the number one in the control and operation of the combustion process.
Basic characteristics of burner control modules
MK8 MM Touchscreen Module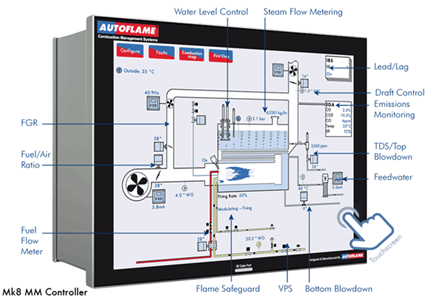 Module MK.8 MM is a micromodulatory system that offers comprehensive control over industrial and commercial boilers/burners. It practically controls boiler processes from a single 12.1" multi-touch screen without additional added modules. Ideal for steam and water boilers (water-tube, fire-tube), furnaces and steam generators. Designed for oil, natural gas or both. Servomotors without mechanical bonding and self-check flame scanner create conditions for an unattended boiler room. Modbus connection allows remote monitoring and control. Unlocks software control - use these access codes to unlock enhanced features without problems with hardware changes or added modules:
Autoflame water level control
external analog water level input (requires Autoflame water level)
TDS/top blowdown of boiler
Blowdown of boilers
chimney draft control
direct Modbus connection
fault signaling for 16 external faults
complete measurement
12.1" touch colour display



Download

: Prospectus MK8 MM
Module MK8 MM WL (with water level control)
The basic module MK8 MM can be extended with water  level control module. Autoflame  level control is probably the safest and most accurate method of level control in a steam boiler. The accuracy of water level sensing in the boiler ranges from +/-3 mm. The accuracy of regulation during operation is the patent of Autoflame  (software evaluation of ripples and turbulence). Safety is guaranteed by the fact that the level measurement is controlled by two identical capacitive probes that measure and evaluate the level of the level in the boiler during operation. Both probes evaluate "maximum level", "required level", "first low level", "second  low level". The values detected by the probes are constantly compared and checked with each other and compared with the required (set) data. To control the required level, the level information is used for PI (PID) control of the supply water control valve or the VSD of the supply pump.
The mechanical and electrical integrity of the probes is automatically checked using Autoflame hardware and software. Temperature variations are eliminated for each probe and its electronic control. This methodology ensures absolute safety of operation. The level control and evaluation program is based not only on information about its height, but also on knowledge of the ripple level and turbulence inside the boiler cylinder. Ripples and turbulence allow  Autoflame to evaluate information about the immediate power of burners (there is no other system) and changes in pressure and amount of steam.
MINI MK8 Module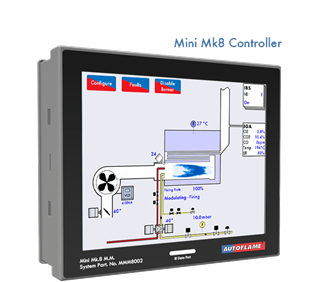 Mini MK8 is the most modern micromodulation system that provides easily programmable and flexible means to optimize combustion in the required boiler/burner range. This control module contains all the required functions for reliable burner control. This system includes a fully automated flame protection system and a valve test system, MODBUS connection and a new touch screen interface. This system ensures the burner temperature with an accuracy of 1°C and a pressure of up to 1 PSI. The positioning accuracy of the direct-drive motors controlling the air damper and fuel valve is 0.1 angular degrees in the entire range. This accuracy ensures a repeatable fuel-air ratio , resulting in improved fuel savings and reduced emissions.
ability to reduce fuel consumption by 5-7%
ability to reduce CO2 emissions by 10%
repeatable and accurate positioning system reduces maintenance costs
fuel control, VSD, planning, sequencing and other automatic settings all control via touch panel
Download: Prospectus Mini MK8.pdf
Module E.G.A. MK8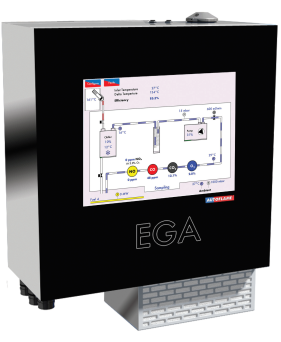 The E.G.A. MK8 module is a continuous flue gas analyzer. It provides easy programming and display with a fully graphical colour touchscreen. As standard, it is equipped with a sample treatment unit, electrochemical cells for measuring O2, CO2, CO and NO, a flue gas temperature sensor and six analog outputs of 4 - 20 mA for the transmission of measured values. It can be equipped with an electrochemical cell for measuring SO2. From the measurement results, the analyzer evaluates the combustion efficiency (chimney loss). It can be used separately for continuous flue gas measurement in conjunction with the display unit or transmit the measurement results by analog signals of 4 - 20 mA to external evaluation devices.
Download: Prospectus E.G.A. MK8.pdf
Module D.T.I.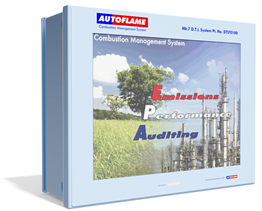 The D.T.I. unit is used for remote monitoring and control of the technological device by direct connection to the PC or via a communication modem.
Download: Prospectus DTI.pdf
Servomotors Autoflame  4/25  Nm,24/230V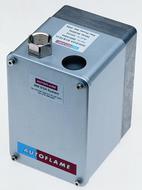 Industrial servomotors Autoflame  40 - 400Nm, 110/230V
Autoflame fuel  control components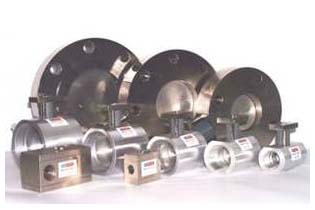 Autoflame components for water level control
Due to the swiftness and flexibility of the service intervention, we keep many AUTOFLAME spare parts in stock.
More information can be found at www.autoflame.com