Hot water water-tube boiler – VHK
Use:
Hot water boiler VHK is designed for production of warm or hot water with nominal working overpressure up to 2 MPa and up to outlet water temperature up to 190 ° C. Robust construction, high efficiency, simple installation and long operating life make VHK boilers one of the top products. The VHK boiler can be also supplied for petrochemical industry for the outdoor environment.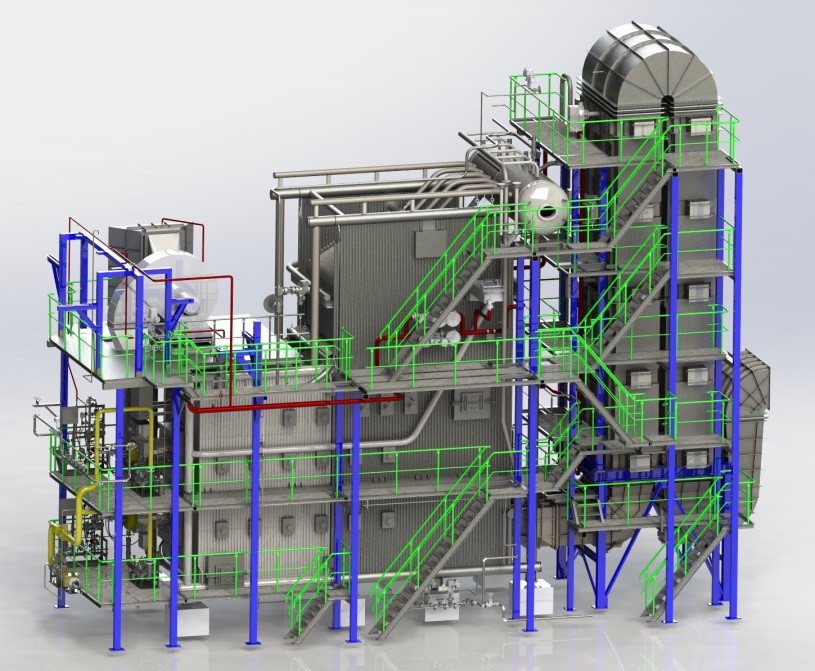 Technical description:
It is the concept of hot-water stationary water-tube boilers with pressurized burners. The boiler is fully membranes with easily accessible pressure parts of the boiler in case of repair.
The boiler is designed as a membrane, water tube, with forced water circulation. The pressure system is self-supporting in the division of the combustion chamber and the second draught in which the convection beam is located. The lower frame of the pressure system consists of two lateral chambers interconnected by transverse chambers from which are all the tubes led out and delimiting the combustion chamber and the second draught.
As a standalone block there is an economizer and the water air heater.
On the membrane walls of the combustion chamber is suspended insulation made of mineral felt. The whole boiler is plated with PZ sheet. The boiler is delivered in 3 separate blocks allowing transport by road.
The boiler enables combustion of gaseous and liquid fuel.
Boiler type - size

VHK

16

25

30

40

50

60

Nominal heat output

MW

16

25

30

40

50

60

Nominal pressure MAX

MPa

2

Temperature of outlet water Max

°C

190

Temperature of inlet water Min

°C

70

Efficiency with EKO

%

Up to 97
Download: Hot water water-tube boiler VHK.pdf